We can help you with professional pool construction.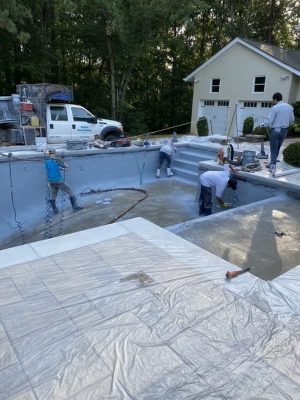 Adding a pool to your yard can have several advantages, including increasing the value of your house, creating a private oasis, and enhancing your health and fitness. At Stillwater Pools, Inc., we offer pool construction services to help you fully enjoy your Fayette County, Georgia property and reap the benefits of spending more time outdoors.
With a pool, your backyard can become a prime location for social gatherings and memorable moments. Our team can offer professional pool construction services so you can enjoy activities like pool parties, barbecues, and just relaxing by the water.
Pools also allow you to improve your physical fitness. Swimming is a fantastic low-impact exercise that strengthens the heart and works several muscle groups. Our pool construction team can give you a convenient and private place to work out on a regular basis.
Not only can a pool benefit your physical fitness, but it's good for your mental health as well. The soothing sound of the water moving, the soft ripples, and the refreshing feeling of swimming can all be quite stress-relieving. Swimming in your pool can be a great way to decompress and clear your head after a stressful day.
Improving your yard with a well-kept pool can raise the value of your house considerably. Homes with pools tend to draw in a lot of interested buyers, so it's an investment that will pay off if you decide to sell your house. It can also make you stand out in the real estate market and improve the overall curb appeal of your home.
If you've been thinking about adding a pool to your yard, our team encourages you to take the plunge and give us a call today. We would be happy to tell you more about our pool construction services and help you design a custom pool that you and your family will cherish for years to come.
---
At Stillwater Pools, Inc., we offer pool construction services in Newnan, Sharpsburg, Fayetteville, Fayette County, Meriwether County, Troup County, and Coweta County, Georgia.