We're here to provide high-quality pool construction and customer service.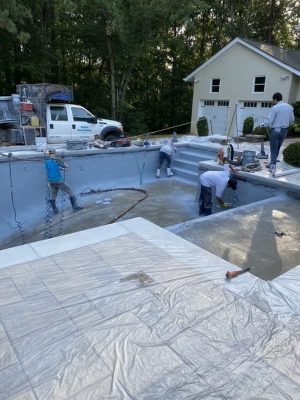 Adding a pool to your property is an excellent way to not only enhance its appearance but also provide a multi-use space for the whole family to enjoy. Whether you want to throw a pool party for your kids and their friends, enjoy a relaxing swim on a Saturday morning, or spend quality time with your family, a pool can make that possible. All you need to do is turn to our team at Stillwater Pools, Inc. and we'll begin the pool construction process at your home in Fayetteville, Georgia or surrounding areas.
Though we have been in business since 2012, we have over 25 years of experience in the pool industry. Needless to say, we are more than prepared to provide pool construction for you. We'll start by going over the design and other details so that you're well informed about what to expect before construction begins. And once that time comes, you can count on our licensed team to dig and grade the hole, install the materials and other parts, and add the finishing touches that will make your pool as functional and beautiful as possible. We're confident that you'll be pleased with the results no matter what type of pool you have chosen. In fact, we personally guarantee our work.
Beyond the quality of the results, we pride ourselves on our quality of service. That means we will stay in communication with you so that you can get answers to your questions and be alerted to our progress while your pool construction takes place. To get started, contact us today.
---
At Stillwater Pools, Inc., we offer pool construction services in Newnan, Sharpsburg, Fayetteville, Fayette County, Meriwether County, Troup County, and Coweta County, Georgia.
Similar Services We Offer: